January is National Human Trafficking Prevention Month
Child trafficking can happen in any state and in any neighborhood, and many vulnerable children are at risk. To date, Partners has taught more than 10,000 health care providers to recognize the signs and help child trafficking victims and potential victims. Join us for special events this month, gain valuable resources and find out how you can support our efforts.
Special Events
Jan. 19 - Join Alliance for Children in Trafficking (ACT) Co-chair Dr. Brenda Cassidy at 7 p.m. ET on NAPNAP's Facebook page to discuss the latest news and trafficking-related advocacy efforts.
Jan. 26 - Earn FREE CE and help us fight child trafficking by becoming an ACT Advocate, a health care provider who, after undergoing special training, can train their peers about child trafficking. ACT Chair Dr. Tresa Zielinski and Co-chair Dr. Brenda Cassidy will lead a virtual ACT Advocate training live via Zoom with updated information and data. Normally, ACT Advocate training is $40, but we are offering this training for free as a Trafficking Prevention Month special. Learn more about our ACT Advocates program and register for this innovative workshop and leadership opportunity today!
Clothing for a Cause
Support NAPNAP Partners and demonstrate your stand against child trafficking by buying one of our stylish T-shirts from the NAPNAP store. Color choices are black and white, and you can purchase both women's and men's styles.Shirts are available through Jan. 31, and a portion of the proceeds from the sale of every shirt will go to NAPNAP Partners.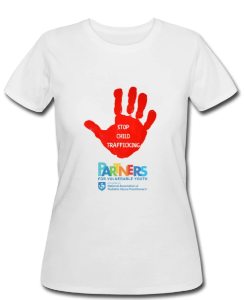 Tools and Resources
Provider & Public Resources - Find best practices and protocols on our Provider & Public Resources page.
H.B. 2059 - Texas providers, learn more about the requirements of H.B. 2059 and find free CE to meet those requirements on our special page.