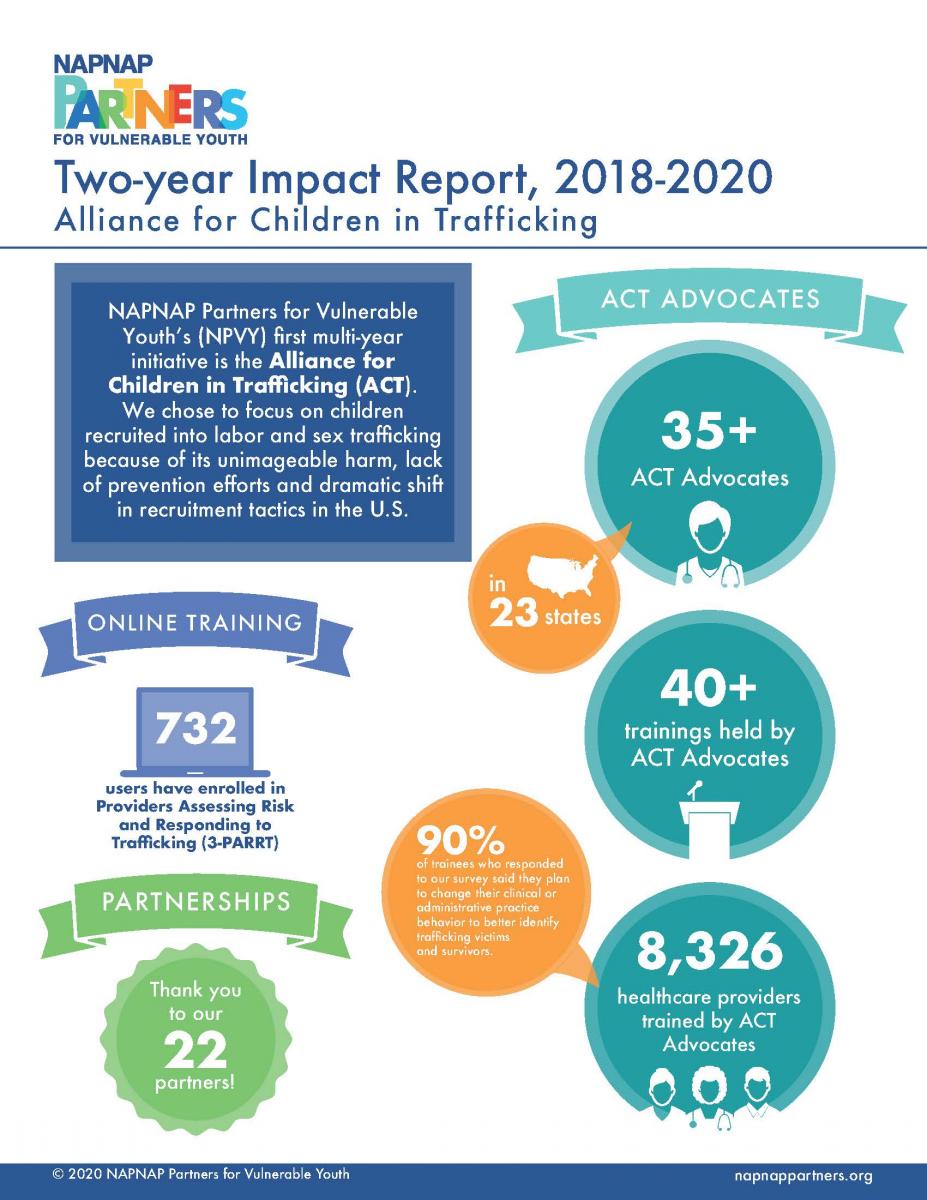 Achievements
2019
The Alliance for Children in Trafficking completes its three human trafficking continuing education modules. The new course, called

3-PARRT

(Providers Assessing Risk and Responding to Trafficking) offers comprehensive, on-demand continuing education on child trafficking for nurse practitioners, nurses, physicians and physician assistants.
The Alliance launches its new

ACT Advocates

program, a grassroots effort to educate healthcare providers on trafficking. After completing the required training curriculum, certified ACT Advocates will conduct a minimum of two trainings per year to other healthcare providers in their community. The first ACT Advocate training was held in March at NAPNAP's national conference in New Orleans. The American Association of Nurse Practitioners (AANP) and Emergency Nurses Association (ENA) also conducted ACT Advocate trainings at their national conferences.
2018
The Alliance for Children in Trafficking forms three workgroups - Training ACT Advocates, Grassroots Toolkit and Best Practices and Protocols - to develop the structure and materials for a grassroots healthcare provider training program. The program is scheduled to launch in the first part of 2019.
NAPNAP Partners Executive Board formerly adopted name change to the Alliance for Children in Trafficking (ACT) - July 2018
Advocated for the Allow States and Victims to Fight Online Sex Trafficking Act (FOSTA)/the Stop Enabling Sex Traffickers Act (SESTA), which was signed into law on April 11, 2018;
NAPNAP National Conference on Pediatric Health Care - Chicago, March 2018

Opening Keynote - Human Trafficking? Not in My Practice. Think Again: Empowering Pediatric Clinicians in Prevention, Identification and Intervention by Holly Austin Gibbs, author, advocate and survivor;
General Session - Educating Youth on the Harmful Effects of Pornography by Clay Olsen, founder and CEO of Fight the New Drug;
Intensive Workshop - i:CARE Healthcare Provider's Guide to Recognizing and Caring for Domestic Minor Sex Trafficking Victims by nationally recognized expert and author Cathy L. Miller, RN, PhD
Screening of film, I Am Jane Doe, a documentary about the battle that several mothers waged on behalf of their middle-school daughters who were victims of sex-trafficking on Backpage.com;
NAPNAP's Acute Care SIG, with support from Unbound Houston, distributed soaps and antitrafficking awareness tip cards to all attendees.

Launched Human Trafficking 101, the first of three online continuing education (CE) modules. Module is CNE accredited (CME pending), January 2018;

Underwritten by Unbound Houston, NAPNAP and the Acute Care Special Interest Group;

Launched IRB survey of NAPNAP members to evaluate human trafficking knowledge levels, January 2018;

A total of 798 members participated in the survey with 256 expressing interest in volunteering to fight trafficking;

Conducted human trafficking of youth awareness campaign during January's Human Trafficking Awareness Month, January 2018;

Radio media campaign reached 4.3 million listeners;

Connected McCain Institute for International Leadership with National Student Nurses' Association for nationwide distribution of Student Alliance Against Trafficking Toolkit, January 2018.
2017
Launched napnappartners.org website and social media outreach, October 2017;

In conjunction with NAPNAP, conduted educational advocacy to individual federal legislators and committees of jurisdiction for FOSTA/SESTA and the Stop, Observe, Ask, and Respond to Health and Wellness Act of 2017 (SOAR), September and November 2017;

Attended JUST Conference hosted by Shared Hope International, October 2017;

Incorporated NAPNAP Partners for Vulnerable Youth, a 501(c)(3) organization with 13 founding partners, August 2017;

NAPNAP contributed $50,000 in seed money and in-kind services;

NAPNAP Executive Board approved establishment of charitable foundation to focus on vulnerable youth;

Contributed to Office of Trafficking in Persons (OTIP) advisory group on core competencies for SOAR modules, September 2017

Presented on human trafficking of youth awareness to the American Association of Nurse Practitioners, June 2017;

NAPNAP Steering Committee developed strategic plan for the Alliance for Care Coordination of Children in Human Trafficking, March 2017
2016
NAPNAP Executive Board approved moving forward with professional and public awareness campaign on anti-trafficking of youth, November 2016